Step 5: Work Out LESS (Yes,
Less

)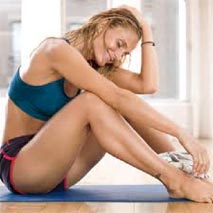 If you don't work out at all, you're going to lose muscle tissue every year. That means you'll get fatter and flabbier each and every year with less shape and more sag. Is this what you desire? No way, right?
Well, the answer is old school resistance training. Here's the secret: hardly anyone is doing it right!
Becky and I have seen literally thousand of pro fitness athletes train over the years. The ones who looked the best — and that means looked the youngest, most toned, and had the least amount of unwanted fat — were the ones who left the gym while others were still warming up!
Over the past decade, Becky and I have developed a men and women's workout system that we call F4X Training System. This is a revolutionary way of combining four specific exercises done in literally a matter of minutes. That's ALL YOU NEED... And don't let anyone tell you otherwise!
That's right: We do not do endless cardio sessions (the F4X Training System is a great cardiovascular workout) and we do not spend an hour a day in the gym. We have a life, thank you. We have kids, and we value being both fit and real people at the same time. The F4X Training System was our personal breakthrough to achieving our ideal bodies, staying in tip-top shape with minimal time, and having a life outside a gym.
WARNING:


THIS IS NOT FOR EVERYONE!
We're not going to lie to you: The F4X System is definitely not for everyone. For example:
If you enjoy spending an hour a day working out, this is NOT for you (and good luck with those free radicals!)
If you think you can "spin" or run your way to a younger, time-changing body, have at it... this is not for you.
And, if you are not prepared to work very, very hard for a very short period of time, this is not for you.
We're not going to lie: F4X is hard work — anything that produces this kind of radical age-defying result will never be a walk in the park.
However, it's FAST it's EFFICIENT and it's SAFE. Fair enough? Hey, if you're looking for an EASY way out, then Google "Pipedream Workout" and maybe you'll get lucky. If you want results that have stood the test of DECADES, then read on.
You MUST be okay with brief bouts of old-school-style hard work. If you are, here's a routine you've never seen before, AND you will get in and out of the gym in RECORD time.
"So, what do I do next?"
If you are really ready to get started on our exact Old School, New Body System that features our F4X Training Program, the OSNB Ageless Nutrition Plan, and all of our anti-aging secrets and protocols, then click the button below and we'll take you to the next page.
On the very next page, we'll let you in on the specifics of our System, and how you can get started within less than 30 minutes from now...